III Connecta amb l'Edat Mitjana (September'22-June'23)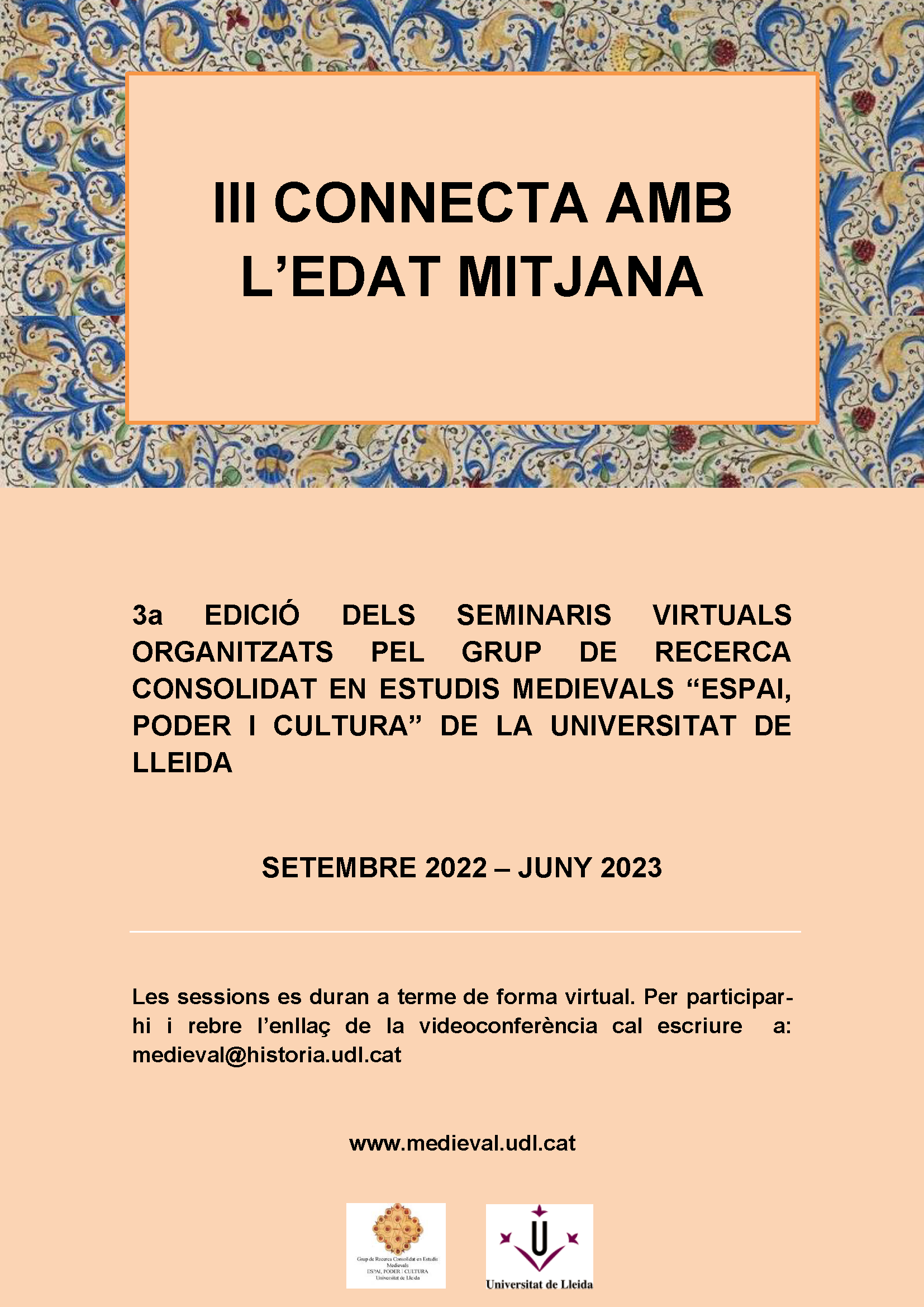 VIRTUAL SEMINARS
PROGRAMME
(Sessions will start at 5pm)
SESSION 1: 20th September 2022
Fernando Ruchesi (Universitat de Lleida), Cohesión e identidad en la Temprana Edad Media occidental (siglos VI al VIII).
SESSION 2: 18th October 2022
Carlos Crespo (Universitat d'Alacant), Gènesi i èxit d'un mercat entre fronteres: l'espai econòmic valencià i el comerç ibèric-mediterrani a la Baixa Edat Mitjana (1370-1430).
SESSION 3: 22nd November 2022
Patricia Castiñeyra (Universidad de Murcia), Humanizando a María. Imágenes de la Virgen para una nueva era.
SESSION 4: 13th December 2022
Núria Preixens (Universitat de Lleida), Escriure a la Corona d'Aragó a l'Edat Mitjana: característiques i tipologies d'escriptura
SESSION 5: 17th January 2023
Guillermo Vijil (Universidad de Zaragoza), Instituciones y agencia campesina en Aragón: la Comunidad de aldeas de Teruel en la Baja Edad Media.
SESSION 6: 14th February 2023
Eduard Juncosa (Universidad Complutense de Madrid), Margarida de Prades: regnat breu, vida intensa. Una biografia renovada de la darrera reina del Casal de Barcelona.
SESSION 7: 21

st

March 2023
Rogerio R. Tostes (Universitat de Lleida), El discurs jurídic a les corts medievals portugueses: João das Regras i la interpretació de la sobirania a l'aparició dinàstica d'Avis (1383-1385).
SESSION 8: 18th April 2023
Sergi Tella (Universitat de Lleida), Exercint el poder a la Catalunya Carolíngia.
Maria L. Carrera (Universitat de Lleida), Artús, Perceval i Tristany: els personatges de la Matèria de Bretanya en els trobadors del segle XII.
SESSION 10: 13th June 2023
Marco Antonio Scanu (Universitat de Lleida), Los Alagón entre Zaragoza y Cerdeña: acontecimientos, papel social, mecenazgo (siglos XV-XVI).
All members of our mailing list will receive the link from each session. If you are not in our mailing list, please contact us: medieval@historia.udl.cat
Free access.
Last modification: