Project "El poder vivido en la Baja Edad Media: percepción, representación y expresividad en la gestión y la recepción del poder"
Activities
Download Pdf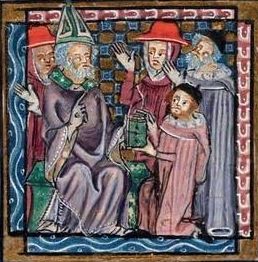 Virtual congress "Experiencing power in the Middle Ages" (On-line, 28th June-1st July 2021)
Our aim is to bring together scholarship on aspects of power in the Middle Ages and encourage on-line discussion on the different experiences of power in the medieval period, be it in terms of power-management by those who exercised it in any of its manifestations, or be it from the point of view of those, at different social levels, who were at the receiving end of it.
The programme will consist of respected invited speakers and presentations of accepted papers.
Free participation
We'll see you there!
If you have any questions, please, contact to the organization: medieval@historia.udl.cat
Invited speakers
Màrius Bernadó (Universitat de Lleida), Cum mansuetudine et charitate. Entre la autoridad episcopal y la resistencia al cambio litúrgico.
Alessandra Cioppi (Consiglio Nazionale delle Ricerche), Corona d'Aragona e Sardegna: due osservatori a confronto questioni di lettura.
Leandro Duarte Rust (Universidade Federal de Mato Grosso), Tertium Quid: a retórica da corrupção como princípio de ação no exercício do poder papal (1054-1085).
Julio Escalona (Consejo Superior de Investigaciones Científicas, Madrid), Catastros vivientes: espacio local y complejidad social en la alta edad media.
Francesca Español (Universitat de Barcelona), Colors i sons a l'aula maior. Els signes d'un espai polivalent.
Renan Friguetto (Universidade Federal do Paraná), Under the sword of Damocles: the permanent state of conflict, motor of the fortification or weakness of the Hispano-visigoth monarchy (6th - 7th centuries.
Luciano Gallinari (Consiglio Nazionale delle Ricerche), Martyrs and saints as useful tools for a (new) foundation of the power in Sardinia of the two dynasties of the Judges of Calari and Logudoro (10th?-12th centuries).
Andrea Gamberini (Università degli Studi di Milano), Il Leone pelato. Brescia e il governo veneziano nelle immagini di un codice di privilegi (sec. XV).
Jonas Holst (Universidad San Jorge), Aproximaciones al poder en la Baja Edad Media: definiciones, adaptaciones y estudios de casos.
Javier Martínez de Aguirre (Universidad Complutense de Madrid), Los nuevos castillos del siglo XV: ejercicio y representación del poder en los reinos hispanos.
Antoni Mas (Universitat de les Illes Balears), Entre la norma i la pràctica: com es concretava el poder («senyoria») del propietari sobre l'esclau en el Regne de Mallorca (s. XIV-XVI).
Mauricio Molina (International Course on Medieval Music Performance of Besalú), Diz en son latin: la lengua como elemento de identidad, antagonismo y poder en la canción medieval.
Tomàs de Montagut (Universitat Pompeu Fabra), Usatges de Barcelona i potestat pública del príncep.
Miguel Ángel Motis and Ana Ruiz Varona (Universidad San Jorge), Cartografía espacial y simbólica de la élite mercantil judeoconversa en la ciudad de Zaragoza (s. XV): nueva sintaxis de poder.
Mariarosaria Salerno (Università degli Studi di Calabria), Enti monastici ed esercizio dei poteri signorili tra XIV e XV secolo: alcuni esempi dell'Italia meridionale.
Giovanni Sini (Consiglio Nazionale delle Ricerche), Espressioni e pratiche del potere politico nelle Corts del XIV secolo e del XV secolo tra principato di Catalogna, regno di Sardegna e Sardegna giudicale.
Maria Soler (Universitat de Barcelona), Paisaje espiritual y poder: textos, arqueología y territorio en el estudio de los monasterios medievales.
Accepted papers
Andrea Aparicio Lozano (Universidad del País Vasco/Euskal Herriko Unibertsitatea), Taking over kinship: exercising ecclesiastical power over lay aristocratic families.
Aitor Armendariz Bosque (Universidad del País Vasco/Euskal Herriko Unibertsitatea), The power of the writing and the writing of the power: dominating woodlands in the Early Middle Ages.
Federico J. Asiss González (Universidad Nacional de San Juan/CONICET), El señorío natural entre Alfonso X y don Juan Manuel. De la majestad real a la idea de un poder colegiado.
Hugo Roberto Basualdo Miranda (Universidad Nacional de San Juan), Imagen y representación del buen gobernante en Castilla en el siglo XV.
Christa Birkel (Heinrich Heine University Düsseldorf), Experiencing Power(lessness). The Duchy of Luxembourg Divided Between Dukes, Lienholders and Local Elites (14th-15th Centuries).
Marija Blašković (University of Vienna), The Spectrum of Power(s) and Authority in the Late 12th-Century Hispano-Latin Chronicles.
Marisa Bueno Sánchez (Universidad Complutense de Madrid), Trophies of the Cross. The Impact of Christian Conquest in Granada Kingdom on Muslim Wordship places, 1492 and beyond.
Laura Carbó (Universidad Nacional de Mar del Plata), Tamorlán "el señor de señores". Una aproximación a las bases del poder tártaro según la percepción del dominico Juan (1403)
Helena Casas Perpinyà (Universitat de Barcelona), Mujeres y hombres en la Mallorca del siglo XV. Notas históricas sobre política sexual.
Albert Cassanyes Roig (Universitat de Lleida), Lluites de poder en la provisió de prebendes catedralícies a la Corona d'Aragó a mitjans del segle XV.
Mª del Rosario Celdrán Hernandez (Universidad Católica San Antonio de Murcia), El concepto de autoridad franciscano como alternativa a espacios de poder en la etapa medieval.
Martina Del Popolo (Universitat de Barcelona-Università degli Studi della Repubblica di San Marino), El patrimonio señorial de Isabel de Castilla en Sicilia y Cataluña (1470-1504).
Cecilia Devia (Universidad de Buenos Aires), Poder, dominio y gracia en el pensamiento de John Wyclif. Aplicación de criterios diferenciales entre el clero y el laicado.
Laure Domont (Université Paul Valéry Montpellier III), El poder navarro en Montpellier en el siglo XIV.
Ivana Elbl (Trent University), The Royal Billet in Fifteenth-Century Portugal: Power, Parliaments, and Helplessness.
Plácido Fernández-Viagas Escudero (Universidad Pablo de Olavide), Discurso eclesiástico, poder regio y pautas matrimoniales populares en la Castilla del siglo XIII.
Gloria Cristina Flórez Davila (Pontificia Universidad Católica del Perú) and Igor Antonissen (Universidad de Piura), Relaciones de grupos de poder económico y político en la Carrera a Flandes a fines de la Edad Media.
Luis Galan Campos (Universitat de València), The knights, the king and the power of land in the Crown of Aragon (1375-1425).
Albert Gobern i Canals (Independent Scholar), El procés d'insaculació. El cas d'Esparreguera.
Miguel-Ángel González Hernández (Universitat d'Alacant), Ciutadans de la mà menor a la presó comuna. Represión política contra los grupos populares en el reino de Valencia, Orihuela (1458-1479).
Diego González Nieto (Universidad Complutense de Madrid), Ascender a la sombra del poder de la mitra: familiares y servidores de los obispos en la Castilla bajomedieval.
J. Lucien D. Houle (University of Florida), Itinerant Rule and Diplomacy in Thirteenth-Century Occitania.
Jennifer Elisa Jansen (Leiden University), Monsters in The Sir Gawain Cycle: Reflections of Tensions Surrounding Aristocratic Identity in the Anglo-Scottish Borderlands in 1450-1475.
Ana Loché González (Universidad de Oviedo), "Haec amplificabit acclesiam istam, et multis muneribus ditavit". Expresiones de poder en el infantado femenino leonés a través de la muerte y el recuerdo.
Álvaro Lorenzo Fernández (Universidad Complutense de Madrid), La epigrafía altomedieval del noroeste hispano desde la perspectiva de la expresión de poder.
André Madruga Coelho (Universidade de Évora), The execution of the duke of Braganza, a violent display of royal power (Portugal, 1483) – the construction of a narrative.
Elisabeth Menor Natal (Universidad Complutense de Madrid), La escritura publicitaria como representación del poder en Toledo (siglos XIII-XV).
Vera Cruz Miranda Menacho (Universidad Rey Juan Carlos), El poder de la santidad de Carlos de Viana: taumaturgia y propaganda.
Helena Moreno Galán (Universidad Católica de Murcia), El Obispo-Juez en la Baja Edad Media.
Rui Pedro Neves (Universidade de Coimbra), "Uijnha mayor desassesego e moor dano". The end of the vindicta during the reign of Afonso IV.
João Nisa (Universidade de Coimbra), E farey guerra per vosso mandado e guardarey paz a quem vós mandardes: the Portuguese alcaide in the Late Middle Ages.
Sabrina Orlowski (Universidad Nacional de La Plata), El ejercicio del poder político de la aristocracia visigoda en los Concilios Eclesiásticos, (siglos VI- VII).
Pere Poy Baena (Universitat de Barcelona), Sobre potestats, bíblies i traduccions. Els vincles entre la Casa de Barcelona i la Sagrada Escriptura
Víctor Rabasco García (Universidad Complutense de Madrid), Aspectos tribales de los poderes andalusíes (ss. X-XI): la cultura visual como herramienta de legitimación.
Simone Rosati (Universidad Católica San Antonio de Murcia), Poder y propiedad en la experiencia jurídica medieval.
Jack Roskilly (Université de Picardie Jules Verne), Experiencing intellectual authority in Byzantium (12th-13th c.): intellectual politeia and its power over the State.
Enrique José Ruiz Pilares (Universidad de Cádiz), Los conflictos entre facciones como manifestación de la oligarquización del poder urbano en Andalucía a finales de la Edad Media.
Roque Sampedro López (Universidad de Santiago de Compostela), Poder y resistencia en el Libro de Gracián durante el reinado de Juan II de Castilla.
Xosé M. Sánchez Sánchez (Universidad Nacional de Educación a Distancia), "Que despues non podades alegar ynorançia". Población, poder y comunicación de decisiones públicas en el reino de Galicia en la baja Edad Media.
Israel Sanmartín (Universidad de Santiago de Compostela), La representación escritural de las relaciones de poder en el Vade Mecum In Tribulatione de Johannes de Rupescissa en su versión castellana.
Jordi Saura Nadal (Universitat de Barcelona), El notari rural com agent del poder senyorial: la bisbalia de Girona al segle XIV.
Ivan Vera Martínez (Universitat de Girona), Poetic patronage as a tool of political propaganda in medieval Catalonia.
Norma Inés Vidaurre (Universidad Nacional de San Juan), El cuerpo, medida de la justicia en tiempos de Pedro I y Enrique II.
Last modification: