International Medieval Meeting 2023!!
XI International Medieval Meeting Lleida (26-28 June 2023).
Call for attendees OPEN!!!
Reunió Científica del Comtat d'Urgell
XXVI Curs d'Estiu-Reunió Científica del Comtat d'Urgell "Contra les crisis. Per a una visió no catastrofista de l'edat mitjana"
Balaguer (Lleida), 10, 11 and 12 July 2023
XII Jornades d'Història del Monestir de les Avellanes
XII Jornades d'Història del Monestir de les Avellanes
"Regles i regulacions al món monàstic medieval"
Monestir de les Avellanes, 13 i 14 de juliol de 2023
Participation in the International Congress "Community, Identity, Individuals: Shaping the (Political) Nation in Premodern Europe"
Research stay in Italy
Nuria Preixens Vidal, PhD fellow, has done a research stay in Università degli Studi di Bari Aldo Moro. During this, she has consulted different documents for her thesis.
Resarch stay
Last March, our research group received a visit from the professor Kohta Nakashima, from Kansai Gaidai University (Hirakata, Osaka, Japan).
We hope that this visit continues the fruitful cooperation between our research groups!
Congress participation
Last month (Girona, 2-3 February), our researchers Núria Preixens, Sergi Tella and Fernando C. Ruchesi participated in "I Congrés de Joves Investigadors en Història Social i Econòmica".
Papers:
Núria Preixens: "Fonts documentals primàries per l'estudi de l'Almoina de Lleida en època medieval
Sergi Tella: "Justícia i abús a la Catalunya carolíngia: retòrica i pràctica del poder comtal"
Fernando Ruchesi: "Cuestiones preliminares sobre identidad y cohesión en la transición al dominio carolingio en el nordeste peninsular"
New book
Assalt militar en un museu a Catalunya en el segle XXI
By Flocel Sabaté
Edicions Sidillà, 2022
La matinada de l'onze de desembre de 2017, una vuitantena de guàrdies civils, amb l'uniforme d'assalt i metralleta en mà, van entrar en el Museu de Lleida Diocesà i Comarcal, davant la mirada atònita dels treballadors, que havien obert la porta sense cap manifestació o insinuació de resistència que justifiqués aquest desplegament de força. Portaven una ordre d'un jutjat de primera instància d'Aragó que els autoritzava a endur-se'n quaranta-quatre obres d'art.
La notícia va provocar una consternació enorme en els àmbits culturals europeus i nord-americans, que no entenien com era possible un comportament d'aquesta mena a Europa en el segle XXI. (Source: Edicions Sidillà)


New book
Antoni Cerdà. En la cruïlla dels poders medievals
by Albert Cassanyes Roig
Pagès Editors, 2022
Abstract (Catalan version): Antoni Cerdà fou una persona molt pròxima al poder. Nascut a l'illa de Mallorca, ocupà diferents càrrecs a la jerarquia eclesiàstica: fou canonge de Mallorca, arquebisbe de Messina, bisbe de Lleida i cardenal resident a la Santa Seu, a més d'obtenir nombroses prebendes en esglésies i monestirs d'arreu de la Corona d'Aragó. Estigué al costat dels papes de mitjans del segle xv, que arribaren a qualificar-lo de «príncep dels filòsofs» per la seva gran cultura. També va ser un fidel servidor del rei Alfons el Magnànim, i una peça clau en la seva política italiana, tant per la seva influència davant el papa com per les informacions que feia arribar a la cort reial. Aquest llibre, fruit d'una intensa recerca en arxius de Catalunya, Mallorca i el Vaticà, reconstrueix, fins on és possible, la biografia d'un cardenal mallorquí del segle xv que visqué durant un període de grans canvis. Sense renunciar als objectius propis, Antoni Cerdà hagué de moure's entre els interessos, sovint contraposats, del papa i el rei.
New book
Carta de la Indemnitat de la Terra del Marquesat (1455-1458)
Author Dolors Domingo Rúbies
Edicions i Publicacions de la UdL, 2022
Abstract (Catalan version): Aquest llibre té com a base l'anàlisi del Llibre de la Indemnitat del Marquesat de Camarasa i actes en favor de Cubells, el tema principal de la Carta de la Indemnitat és la resolució de l'endeutament de la Terra del Marquesat. La publicació es divideix en dos apartats, el primer és un estudi introductori al text en què es fa una aproximació geogràfica, demogràfica i històrica a l'entitat medieval anomenada la Terra del Marquesat des de la seva creació el 1330 fins a l'inici de les sentències de la indemnitat. I el segon apartat presenta l'edició de la Carta de la Indemnitat. La transcripció del document, que va precedida d'un estudi dels textos que se'n conserven. S'ha afegit al text més important transcrit, fragments d'altres documents, que ens aporten coneixements significatius per assolir-ne un estudi més complet en el seu conjunt.
New volume
Imago Temporis. Medium Aevum
New volume 16 (2022) available.
Authors: Jose Pablo Alcover Cateura, Juan Carlos Arboleda Goldaracena, Federico J. Asiss-González, Fulvio Delle Donne, Chet van Duzer, Ionut Epurescu-Pascovici, Enric Guinot, Jose Alejandro Marin Riveros, Francesc Massip, Diego Melo, Milton Pedro Dias Pacheco, Silvia Pérez-González, Flocel Sabaté, Marta Serrano Coll, Fernando Serrano Larráyoz, Alberto Venegas, Pau Viciano.
New book
El paisatge medieval del comtat de Barcelona. Història del paisatge, documents i cartografia d'un país mediterrani
Author: Jordi Bolós Masclans
Pagès Editors, 2022
Connecta amb l'Edat Mitjana
Now available on YouTube
If you missed our virtual seminars of "Connecta amb l'Edat Mitjana" (edition 2022/23) you can find them on our YouTube channel!
FECYT Seal of quality 2022
Imago Temporis. Medium Aevum has received the renewal of the seal of quality 2022 from FECYT.
Journals that successfully complete the evaluation process obtain the FECYT Seal of Quality in recognition of scientific and publishing quality. In this line, Imago Temporis. Medium Aevum has received the Seal of Quality in 2019, 2020, 2021 and now its renewal.
III Connecta amb l'Edat Mitjana 2022-2023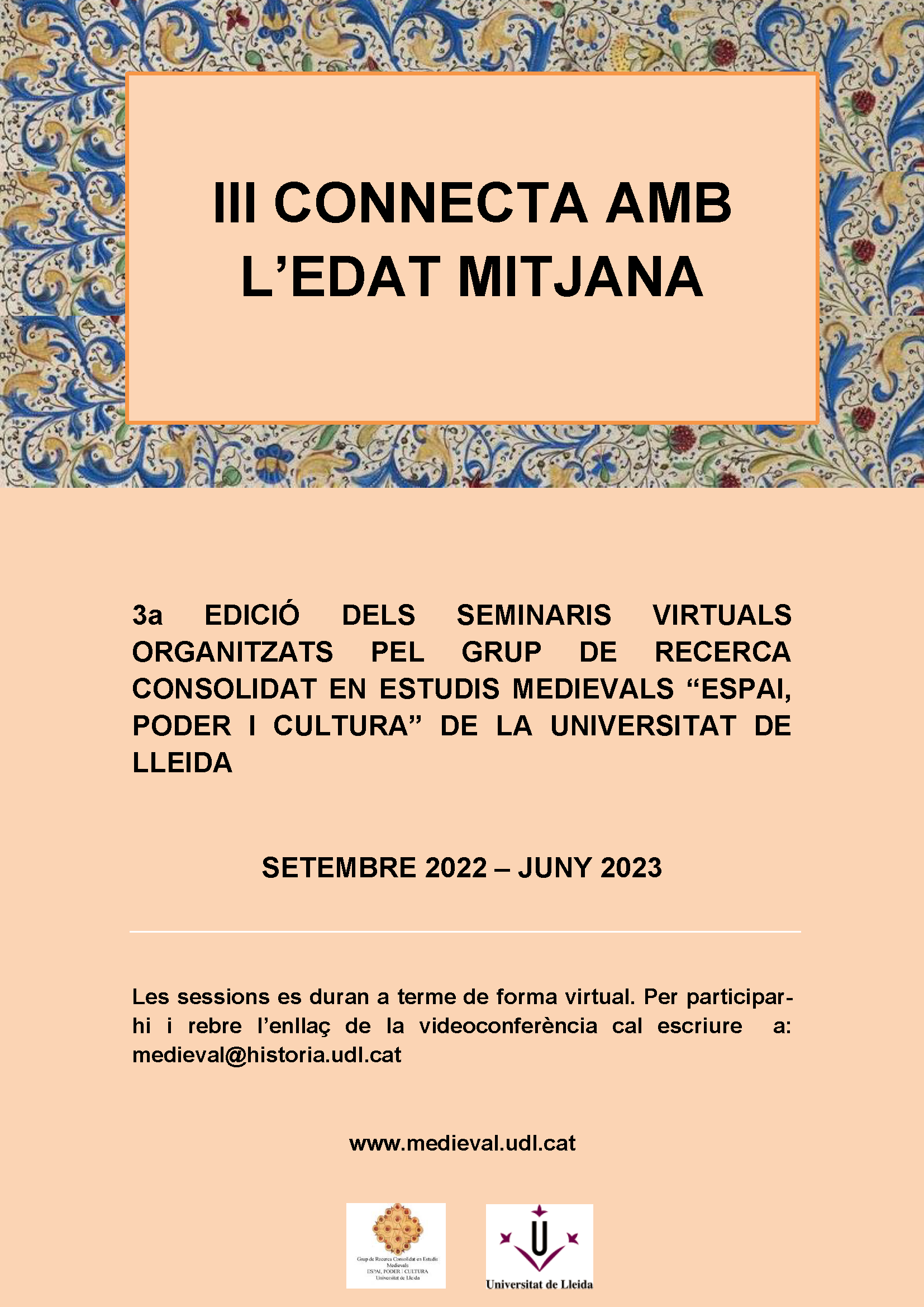 Monthly virtual seminars organized by the research group.
Participants: Fernando Ruchesi (Universitat de Lleida); Carlos Crespo (Universitat d'Alacant); Patricia Castiñeyra (Universidad de Murcia); Núria Preixens (Universitat de Lleida); Guillermo Vijil (Universidad de Zaragoza); Eduard Juncosa (Universidad Complutense de Madrid); Rogerio R. Tostes (Universitat de Lleida); Sergi Tella (Universitat de Lleida); Maria L. Carrera (Universitat de Lleida) and Marco Antonio Scanu (Universitat de Lleida).
Programme and more information
Minuts Medievals. New episode
Watch a new episode of Minuts Medievals:
"Falsificadors de l'Art Medieval: El Sant Jordi de Bernat Martorell" by Alberto Velasco (Universitat de Lleida)
Documentary film "So emetent"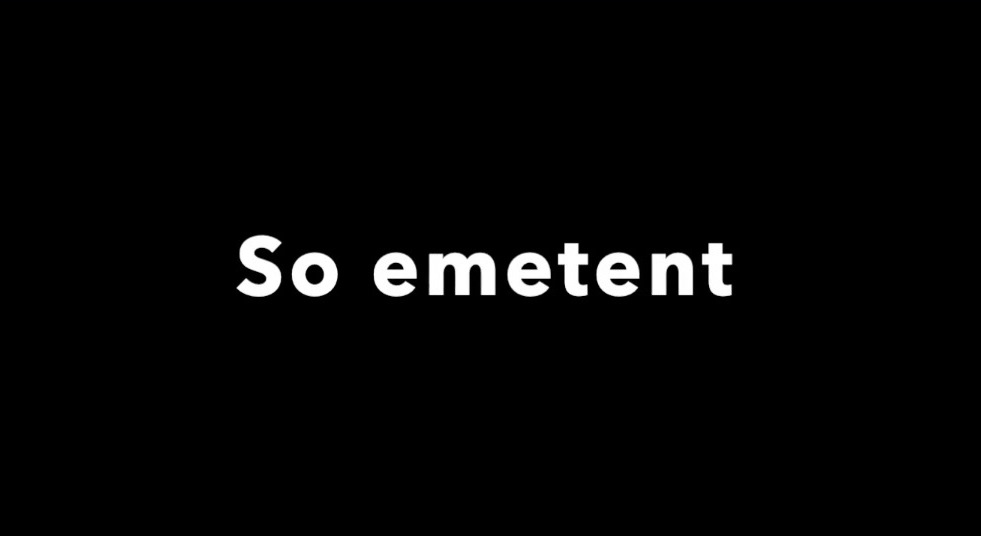 "So emetent", a documentary film produced by "Associació de Caps i Comandaments de la Policia Local de Catalunya" (ACCPOLC). The documentary has involved the participation of Flocel Sabaté and it is available here.