II Connecta amb l'Edat Mitjana (September'21-June'22)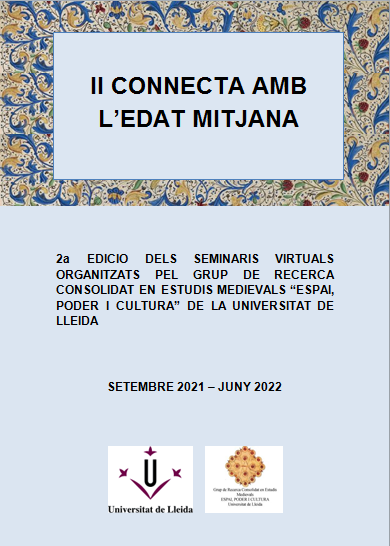 VIRTUAL SEMINARS
CALENDAR
(Sessions will start at 5pm)
SESSION 1: 21st September 2021
ALBERTO VELASCO (Universitat de Lleida), Imatges marianes en temps del gòtic: models autòctons o models forans? Condicionants nacionalistes i visions autàrquiques.
SESSION 2: 19th October 2021
VICENT ROYO (Universidad de Zaragoza), Societat rural, poder i identitat al regne de València (s. XIII-XV). Plantejaments, fonts i metodologia d'estudi.
SESSION 3: 16th November 2021
MARINA GIRONA (Consejo Superior de Investigaciones Científicas), De rabinos, jueces y escribas: procedimientos judiciales en una aljama judía de Castilla (siglo XV).
SESSION 4: 14th December 2021
FRANCESCO RENZI (Universidade Católica Portuguesa), La estructura del cardenalado romano en la Plena Edad Media (siglos XI-XII). Reforma, Organización Episcopal y Elección Pontificia.
SESSION 5: 18th January 2022
XÈNIA GRANERO (Universitat Rovira i Virgili), La evolución de los cielos pétreos de los siglos XII al XIV: la Catedral de Tarragona como caso de estudio singular.
SESSION 6: 15th February 2022
SALVATORE MARINO (Universitat de Barcelona), Infància i aprenentatge a la Barcelona de la Baixa Edat Mitjana.
SESSION 7: 15th March 2022
XAVIER SANAHUJA (Societat Catalana d'Estudis Numismàtics-IEC), Identitat política a les monedes medievals catalanes.
SESSION 8: 26th April 2022
JENNIFER GOMEZ (Universitat de Lleida), La celebración de la Nápoles aragonesa entre historia y mito en la "Pasca" de Cariteo.
KEVIN RODRIGUEZ WITTMAN (Universidad de La Laguna), Tradición mítica y nuevas realidades. La representación del Océano en los mappaemundi medievales.
SESSION 10: 14th June 2022
ALBERT REIXACH (Universitat de Lleida), Les taules de canvi privades a la Corona d'Aragó del segle XIV: el rerefons social d'un fenòmen financer.
All members of our mailing list will receive the link from each session. If you are not in our mailing list, please contact us: medieval@historia.udl.cat
Free access.
Agriculture and Irrigation in the Middle Ages (April'21)
Virtual Scientific Meeting
hosted by Consolidated Medieval Studies Research Group Space, Power and Culture (Universitat de Lleida)
AGRICULTURE AND IRRIGATION IN THE MIDDLE AGES
The Iberian Peninsula and Central Asia Confrontation
13th–14th April 2021
Link: medieval@historia.udl.cat
Free registration
This scientific meeting is part of the activities from the Agreement between the Universities of Lleida-UdL (Catalonia, Spain) and Tashkent Institute of Irrigation and Agricultural Mechanization Engineers-TIIAME (Uzbekistan) promoted by the Consolidated Medieval Studies Research Group Space, Power and Culture at the UdL and the Department of Humanities of the Faculty of Mechanization of Hydromeliorative Works at the TIIAME.
Connecta amb l'Edat Mitjana (September'20-May'21)
It is mandatory to indicate the session in which one wants to participate.
Registration: medieval@historia.udl.cat
Les col·leccions museístiques al jutjat (March'21)
TAULA RODONA VIRTUAL

"LES COL·LECCIONS MUSEÍSTIQUES AL JUTJAT"
Reflexions a propòsit del cas de Sixena i del conflicte entre els bisbats de Lleida i Barbastre-Monzón
A càrrec de Xavier Barral (Institut d'Estudis Catalans), Géraldine Mallet (Universite Paul-Valéry Montpellier 3), Marc Escolà (Universitat Europea del Principat d'Andorra) i Carmen Berlabé (Museu de Lleida Diocesà i Comarcal).

Presideix la sessió: Joan J. Busqueta, Vicerector de Cultura i Extensió Università-ria de la Universitat de Lleida.
Moderen la sessió: Francesc Fité i Flocel Sabaté (Universitat de Lleida)

Dijous, 18 de març de 2021 a les 19.00h
Més informació i enllaç: medieval@historia.udl.cat
Last modification: