Cancellation of summer meetings 2020
Due to Covid-19 our summer meetings "XXV Càtedra del Comtat d'Urgell. El rostre humà de la ciència històrica" (Balaguer) and "XI Jornades d'Història del Monestir de Les Avellanes. El monacat, més enllà: expansió i missió, s. XII-XVI" (Monestir de les Avellanes) have been cancelled. We hope to see you in the next edition in 2021!
Paleography course ends successfully
Due to Covid-19, classroom lessons of the paleography course were cancelled. Its teacher, Nuria Preixens, offered to her students the possibility of continuing the course at home in virtual mode. Even though only half of the students decided to continue the course on this way, most of them are satisfied. We hope to be able to organize a new edition next course 2020/21.
Cancellation of International Medieval Meeting Lleida 2020
IMPORTANT INFORMATION
The Organizing Team of IMMLleida has decided to cancel this year's International Medieval Meeting (29 June - 1 July) due to the COVID-19 global pandemic.
It will be a pleasure to meet you in the next editionof the Congress, which will be held in Lleida in June 2021.
The IMMLleida team wishes health and safety to all.
Research stay in Uzbekistan
Flocel Sabaté, professor of Medieval History and head of our research group has been invited at Tashkent Institute of Irrigation and Agricultural Mechanization Engineers (Uzbekistan). The Department of "History of Uzbekistan and Political Disciplines", headed by prof. Shohistahon Uljaeva, is interested in current problems of history of Uzbekistan, including researches on the subjects "Period of Government of Amir Temur", "Problems of Increase in the General Culture of Citizens", "History Tashkent Makhalla", "Development of agrarian life in Amir Temur's State", "Ahmed Zacky Validi's Creativity Devoted to History of Government of Amir Temur". Moreover, they are interested in relations between Central Asia and Western Europe, by means of trade and medieval diplomatics. Therefore, Flocel Sabaté's stay will promote the exchange between both research groups and the formal agreement between Tashkent University and Universitat de Lleida.
Luciano Gallinari's visit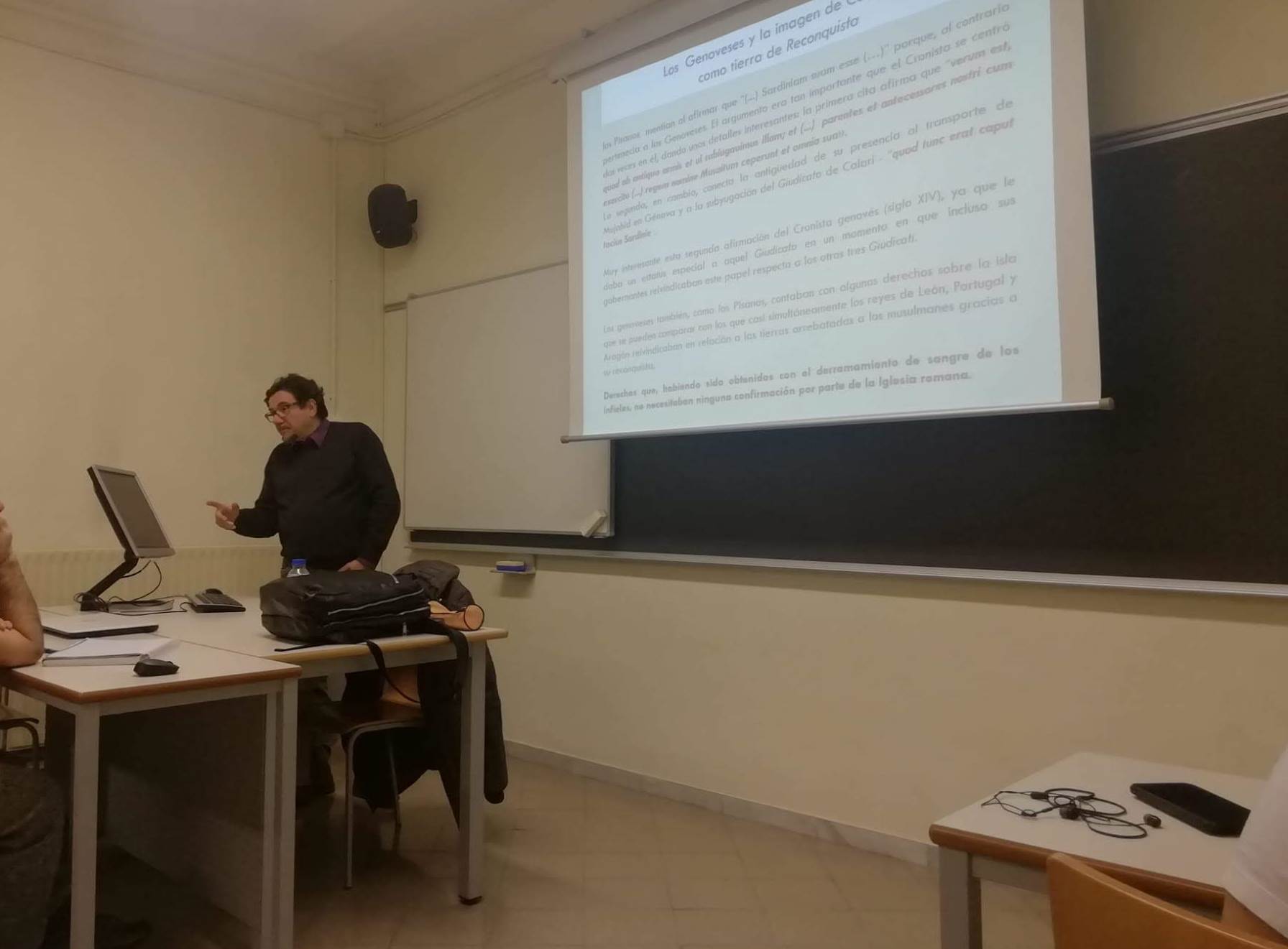 We have the great pleasure to host Luciano Gallinari from CNR-ISEM (Cagliari, Sardinia), thanks to a scholarship support for foreign guest lecturers granted by the Universitat de Lleida. During his stay, he will be giving lessons to our students of Medieval History and he will work with our researchers.
IX Abrils de l'Hospital (new date)
IX Abrils de l'Hospital
International Conference · Food, Health & Assistance
Gandia: September 7-8 2020
Programme
"De l'aforisme clàssic 'Que el teu aliment siga la teua medicina' al contemporani 'som el que mengem', alimentació i salut han anat sempre de la mà. Així, ja a l'Antiguitat però sobretot a l'edat mitjana, els autors dels regiments de salut general, com també els de tractats sobre malalties concretes, insistien en el paper de l'alimentació per tal de sanar i garantir la salut
del pacient. Precisament l'alimentació dels malalts és una de les qüestions primàries que, des de l'edat mitjana fins als nostres dies, han d'atendre els hospitals i els centres assistencials. La IXª edició dels Abrils de l'Hospital pretén ser un espai de reflexió i discussió científica al voltant del binomi alimentació i salut. Les perspectives d'anàlisi són diverses i abasten des del camp de la història de la medicina fins a la història social i també econòmica". Source
New book
Ideology in the Middle Ages. Approaches from Southwestern Europe
Edited by Flocel Sabaté
Part of a trilogy involving research on identity and memory also, this substantial volume sets out to illuminate medieval thought through an in-depth and highly interdisciplinary study of ideology, interrogating the underlying values that inform the interpretive framework through which we might better understand men and women of the Middle Ages.
An introductory chapter situates the Christian Church in the West as a framing ideology of the Middle Ages, analysing Christianity as a coherent narrative providing people with security through its integrated explanation of physical surroundings, social order, and spiritual hope. The book then goes on to consider ideology from four angles: as a means of defining power; as a way of managing power; ideology in the mind as an influence on daily living and how we understand societies; and finally, the ways in which ideology associated with the Middle Ages has exerted influence centuries later, conditioning understandings of past and present.
The individual chapters focus on concrete cases, giving preference to exemplars from southern Europe, a region with a large amount of documentation but which to date has occupied a relatively minor position in research into the Middle Ages. It is this emphasis that is acknowledged in the title of this book, Ideology in the Middle Ages: Approaches from Southwestern Europe, which is offered as a means of enriching and complicating study of the Middle Ages.
This book has two companion volumes, dealing with the allied concepts of memory and identity as part of a larger project that seeks to map and interrogate the significance of all three allied concepts in the Middle Ages in the West.
New book "Death Penalty"
The Death Penalty in Late-Medieval Catalonia. Evidence and Significations
by Flocel Sabaté
The death penalty was unusual in medieval Europe until the twelfth century. From that moment on, it became a key instrument of rule in European society, and we can study it in the case of Catalonia through its rich and varied unpublished documentation. The death penalty was justified by Roman Law; accepted by Theology and Philosophy for the Common Good; and used by rulers as an instrument for social intimidation. The application of the death penalty followed a regular trial, and the status of the individual dictated the method of execution, reserving the fire for the worst crimes, as the Inquisition applied against the so-called heretics. The executions were public, and the authorities and the people shared the common goal of restoring the will of God which had been broken by the executed person. The death penalty took an important place in the core of the medieval mind: people included executions in the jokes and popular narratives while the gallows filled the landscape fitting the jurisdictional limits and, also, showing rotten corpses to assert that the best way to rule and order the society is by terror.
This book utilises previously unpublished archival sources to present a unique study on the death penalty in late Medieval Europe.