II Connecta amb l'Edat Mitjana (September'21-June'22)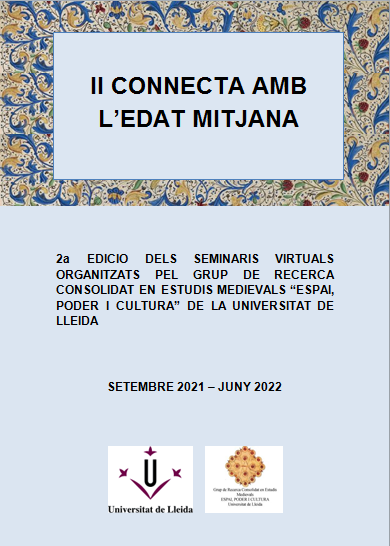 VIRTUAL SEMINARS
CALENDAR
(Sessions will start at 5pm)
SESSION 1: 21st September 2021
ALBERTO VELASCO (Universitat de Lleida), Imatges marianes en temps del gòtic: models autòctons o models forans? Condicionants nacionalistes i visions autàrquiques.
SESSION 2: 19th October 2021
VICENT ROYO (Universidad de Zaragoza), Societat rural, poder i identitat al regne de València (s. XIII-XV). Plantejaments, fonts i metodologia d'estudi.
SESSION 3: 16th November 2021
MARINA GIRONA (Consejo Superior de Investigaciones Científicas), De rabinos, jueces y escribas: procedimientos judiciales en una aljama judía de Castilla (siglo XV).
SESSION 4: 14th December 2021
FRANCESCO RENZI (Universidade Católica Portuguesa), La estructura del cardenalado romano en la Plena Edad Media (siglos XI-XII). Reforma, Organización Episcopal y Elección Pontificia.
SESSION 5: 18th January 2022
XÈNIA GRANERO (Universitat Rovira i Virgili), La evolución de los cielos pétreos de los siglos XII al XIV: la Catedral de Tarragona como caso de estudio singular.
SESSION 6: 15th February 2022
SALVATORE MARINO (Universitat de Barcelona), Infància i aprenentatge a la Barcelona de la Baixa Edat Mitjana.
SESSION 7: 15th March 2022
XAVIER SANAHUJA (Societat Catalana d'Estudis Numismàtics-IEC), Identitat política a les monedes medievals catalanes.
SESSION 8: 26th April 2022 -CANCELLED-
JENNIFER GOMEZ (Universitat de Lleida), La celebración de la Nápoles aragonesa entre historia y mito en la "Pasca" de Cariteo.
KEVIN RODRIGUEZ WITTMAN (Universidad de La Laguna), Tradición mítica y nuevas realidades. La representación del Océano en los mappaemundi medievales.
SESSION 10: 14th June 2022
ALBERT REIXACH (Universitat de Lleida), Les taules de canvi privades a la Corona d'Aragó del segle XIV: el rerefons social d'un fenòmen financer.
All members of our mailing list will receive the link from each session. If you are not in our mailing list, please contact us: medieval@historia.udl.cat
Free access.
Last modification: