New volume
Imago Temporis. Medium Aevum 13/2019
ISSN: 1888-3931
e-ISSN: 2340-7778
Authors: José Vicente Cabezuelo, Juan Manuel Castro Carracedo, Betsabé Caunedo, Chet van Duzer, Darío Español, Antoni Ferrer, Luciano Gallinari, William Chester Jordan, Javier López Rider, José A. Marín, José Martínez Gázquez, Ana Maria Rodrigues de Oliveira, Karen Stöber, José Miguel de Toro, Giovanni Sini.
New book
Ideology in the Middle Ages. Approaches from Southwestern Europe
Edited by Flocel Sabaté
Part of a trilogy involving research on identity and memory also, this substantial volume sets out to illuminate medieval thought through an in-depth and highly interdisciplinary study of ideology, interrogating the underlying values that inform the interpretive framework through which we might better understand men and women of the Middle Ages.
An introductory chapter situates the Christian Church in the West as a framing ideology of the Middle Ages, analysing Christianity as a coherent narrative providing people with security through its integrated explanation of physical surroundings, social order, and spiritual hope. The book then goes on to consider ideology from four angles: as a means of defining power; as a way of managing power; ideology in the mind as an influence on daily living and how we understand societies; and finally, the ways in which ideology associated with the Middle Ages has exerted influence centuries later, conditioning understandings of past and present.
The individual chapters focus on concrete cases, giving preference to exemplars from southern Europe, a region with a large amount of documentation but which to date has occupied a relatively minor position in research into the Middle Ages. It is this emphasis that is acknowledged in the title of this book, Ideology in the Middle Ages: Approaches from Southwestern Europe, which is offered as a means of enriching and complicating study of the Middle Ages.
This book has two companion volumes, dealing with the allied concepts of memory and identity as part of a larger project that seeks to map and interrogate the significance of all three allied concepts in the Middle Ages in the West.
Erasmus + Grant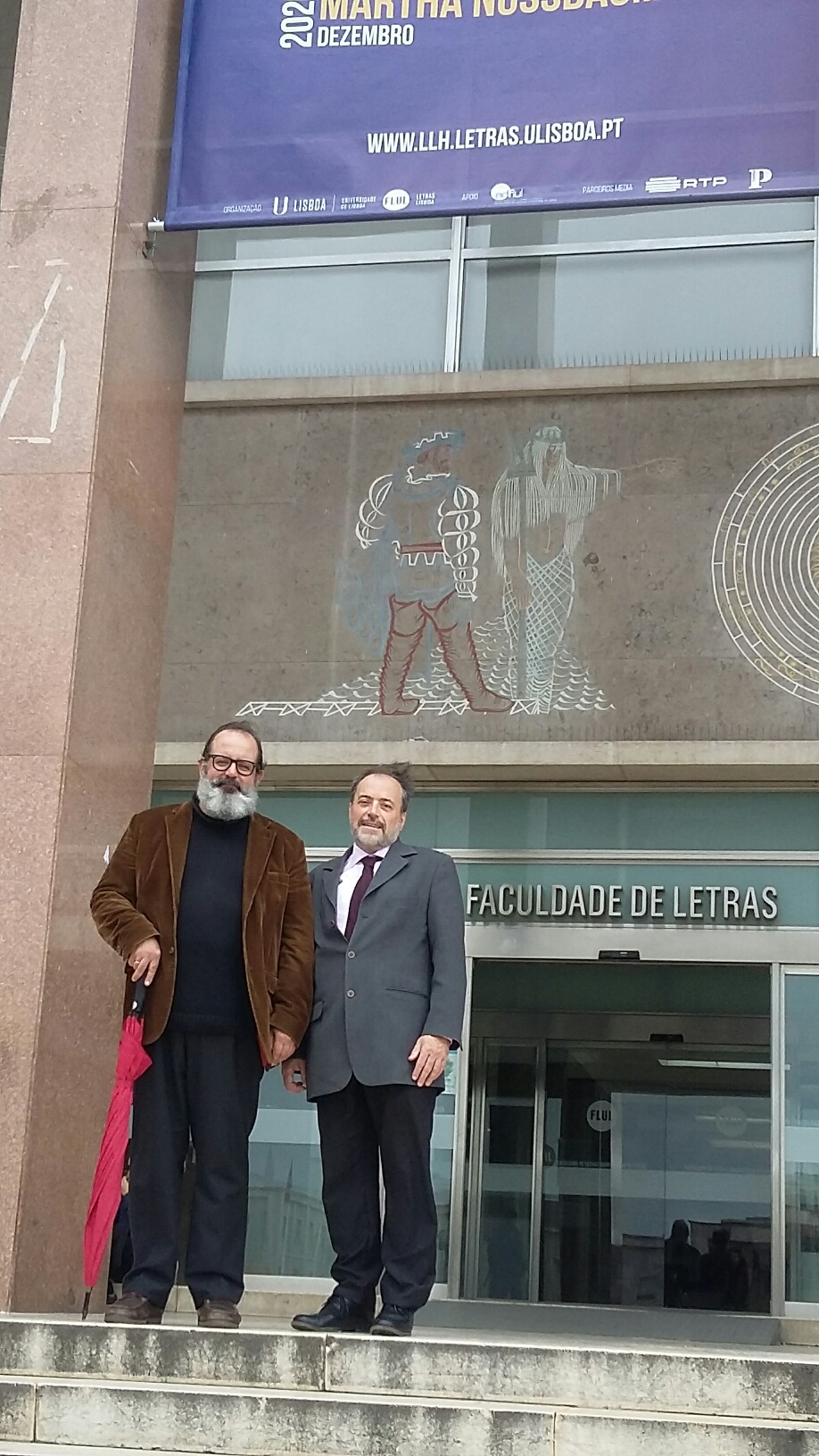 Flocel Sabaté has received an Erasmus + Teaching Mobility grant to teach at Universidade de Lisboa from 25th to 29th November 2019. Furthermore, he has awarded by this university with a research stay from 2nd to 20th December 2019 in Centro de Historia da Universidade de Lisboa as a invited professor.
Research Award
Last October 8, 2019, the Uriach Foundation Prize "History of Medicine" was awarded.

The meeting was held at the Equestrian Circle of Barcelona and it was attended by the members of the jury: Ms. Ana Maria Carmona Cornet, Mr. Àlvar Martínez Vidal and Mr. Jon Arrizabalaga Valbuena who acted as secretary.

Javier Uriach Torelló, the Foundation vice president assisted as well.

After successive qualifying votes, the L Uriach Foundation Prize was awarded to the work "Inquisition and medicine, new contributions on the life of the Valencian Judeoconverse physician Lluís Alcanyís ca. 1440-1506 (Inquisición y medicina, nuevas aportaciones sobre la vida del médico judeoconverso valenciano Lluís Alcanyís ca. 1440-1506)", whose author, once opened the plea turned out to be D. Frederic Aparisi Romero, residing in Gandía.


Congratulations!
Rogerio R. Tostes has successfully defended his Doctoral Thesis
On November the 19th of 2019, the PhD Candidate, Rogerio R. Tostes, defended his Doctoral Thesis entitled "DE VERBA POTESTATIS. A representatividade política na Catalunha de Pedro, o Cerimonioso, um exemplo na semântica europeia". His work was supervised by Flocel Sabaté Curull.
Throughout these years, Rogerio R. Tostes has developed his research work at the Universitat de Lleida.
The comission was formed by Michel Hébert (Université du Québec à Montréal), Tomàs de Montagut (Universitat Pompeu Fabra) and Jaume Ribalta (Universitat de Lleida). Congratulations Rogerio!
New book
The Death Penalty in Late-Medieval Catalonia. Evidence and Significations
by Flocel Sabaté
The death penalty was unusual in medieval Europe until the twelfth century. From that moment on, it became a key instrument of rule in European society, and we can study it in the case of Catalonia through its rich and varied unpublished documentation. The death penalty was justified by Roman Law; accepted by Theology and Philosophy for the Common Good; and used by rulers as an instrument for social intimidation. The application of the death penalty followed a regular trial, and the status of the individual dictated the method of execution, reserving the fire for the worst crimes, as the Inquisition applied against the so-called heretics. The executions were public, and the authorities and the people shared the common goal of restoring the will of God which had been broken by the executed person. The death penalty took an important place in the core of the medieval mind: people included executions in the jokes and popular narratives while the gallows filled the landscape fitting the jurisdictional limits and, also, showing rotten corpses to assert that the best way to rule and order the society is by terror.
This book utilises previously unpublished archival sources to present a unique study on the death penalty in late Medieval Europe.
Call for papers IMMLleida 2020
Present your paper, session, poster or business.
From 4th November 2019 until 29th March 2020
Registration Fee:
€100
Full rate
€50 (until 1st April 2020)
Doctoral/graduate/undergraduate students
Participants previous editions of IMMLleida
Participants aged over 65
Unemployed
€30
Students Universitat de Lleida
Members of HISCOAR-Associació Historiadors de la Corona d'Aragó
Research stay in Rome
Luis Manuel Pérez Zambrano, PhD fellow, did a research stay in Rome from 22nd September to 30th October under the supervision of Professor Luis Martínez Ferrer (Professore Ordinario del Dipartamento di Storia della Chiesa Moderna e Contemporanea, Facoltà di Teologia della Pontificia Università della Santa Croce). During this, he could consult different documents for his thesis in the Archivio Segreto Vaticano, Archivio Generale Agostiniano and Biblioteca Apostolica Vaticana.
Furthermore, he attended the course La primera evangelización de América where he could share the first outcomes of his research on the topic for the Colombian case.
Call for papers
Call for papers IX Abrils de l'Hospital.
Gandia, 27th-28th April 2020
Deadline: 20th January 2020.
Certification of Scientific Excellence
Imago Temporis. Medium Aevum has obtained the certification of scientific excellence according to the evaluation process of the FECYT (Science and Technology Spanish Foundation). Our journal has passed all the phases and rigorous criteria (including timeliness) in order to be selected as EXCELLENT.
New book
Poblacions rebutjades, poblacions desplaçades
Authors: Elisabeth Crouzet-Pavan, Miguel Ángel Motis, Ana Maria Oliva, Juan Francisco Pardo, Cosmin Popa-Gorjanu, María del Pilar Rábade, Flocel Sabaté, Josep Maria Salrach, Jaume Sastre, Josep Torró, Antoni Virgili
Lleida, 2019
ISBN: 978-84-1303-117-0
Pagès Editors